Well, I've been here in Pensacola since January 25th and I Finally "Classed up" on the 14th, of March.. A quick synopsis of my life before I classed up. I arrived way past midnight from Camp Geiger School of Infantry Tired, Confused and very smelly (Granted I showered and had on all brand new clothes, smell lingers after a month in the field) I got to my room after briefs about everything from female sailors to haircuts and was ready to pass out. At this point it was about 3AM and I had to be up in 2 hours for formation, I was out like a light. I woke the next morning to meet my new roommates Martinez and Roy. Martinez and Roy were both laid back mellow guys and I was glad to be with them and not someone who would try to make me order them pizza or clean the head. After the meet and greet I headed outside to go to all the briefings of the day. The first week you're here you are dubbed an INDOC and have many more freedoms than boot and MCT but at the same time have a whole hell of a lot of restrictions. After the day of briefs from various staff around the base we were released, I did not know what to do with myself. I was allowed to do (almost) anything I wanted. Well that whole week went by, Roy moved on to his C school and it was just me and Martinez in room 158. I was now in MAT (Marines awaiting training) Division and was living the life, getting up at 0700 everyday and finishing at 1430 (2:30 in non DB time) In the time from finishing INDOC; I got a new roommate (JP Wise a real good friend now), the other (Martinez) left for the fleet, did AWAT (Aviation warfare apprentice training) with my schoolhouse (AL) and got another roommate (Campbell for Canada) The day before I classed up, it was March 13th a Thursday and I had a 24 hour duty. The duty went smooth as usual but at 0700 the next day a Sergeant from my School house came to me and tells me I have to go to the schoolhouse as soon as I was relieved from duty. I was in one of those stupors, you know the kind where you haven't slept in 24 hours, thinking to myself, "man, now I can't sleep". Well needless to say 30 minutes after I was relieved I was walking up to "The Hill" where my schoolhouse was. I was so incredibly out of it on the way up, I almost did not salute the group of 10+ officers I passed on the way up! I get inside of the school and start looking for where I am required to go, I am wandering around upstairs when Chief Parker (my instructor) asked me what I was doing, "uhh well sir I am looking for Marine Admin, I class up today" (I was standing right under the sign that said "MARINE ADMIN") Chief looked at me and said "your in my class, come with me" He led me to a classroom full of sailors and Marines all of whom I recognized from AWAT and they all looked at me in shock wondering why I was still awake after pulling duty. I sat down and all I could think about was how I did not want to do PT today.. The class commenced and afterward Gunny Hart told us we did not have to PT with the rest of the schoolhouse, boy was I relieved. After class, (being Friday we got out at around 1100) I headed home. As soon as I got to my room I ate and passed out like a light. Sleeping for a solid 18 hours and waking up at 2100 sucks, especially when we had the McGuires run the next morning at 0430 haha. Well fast forwarding to now, I've been classed up a little over a week and can boast 2nd in class with a 94% GPA (It may not seem like much in just a weeks time but I've done 2 test's and Lab so its more than you think) We're currently studying ordnance devices that pertain to ejection seats and I can't complain what so ever, I am enjoying the class. The only thing I am not enjoying is the summer month PT schedule waking up at 0445 to run umteen miles before I am fully awake haha. Stay tuned!
Our room, I am on the left side single rack. We've since upgraded our TV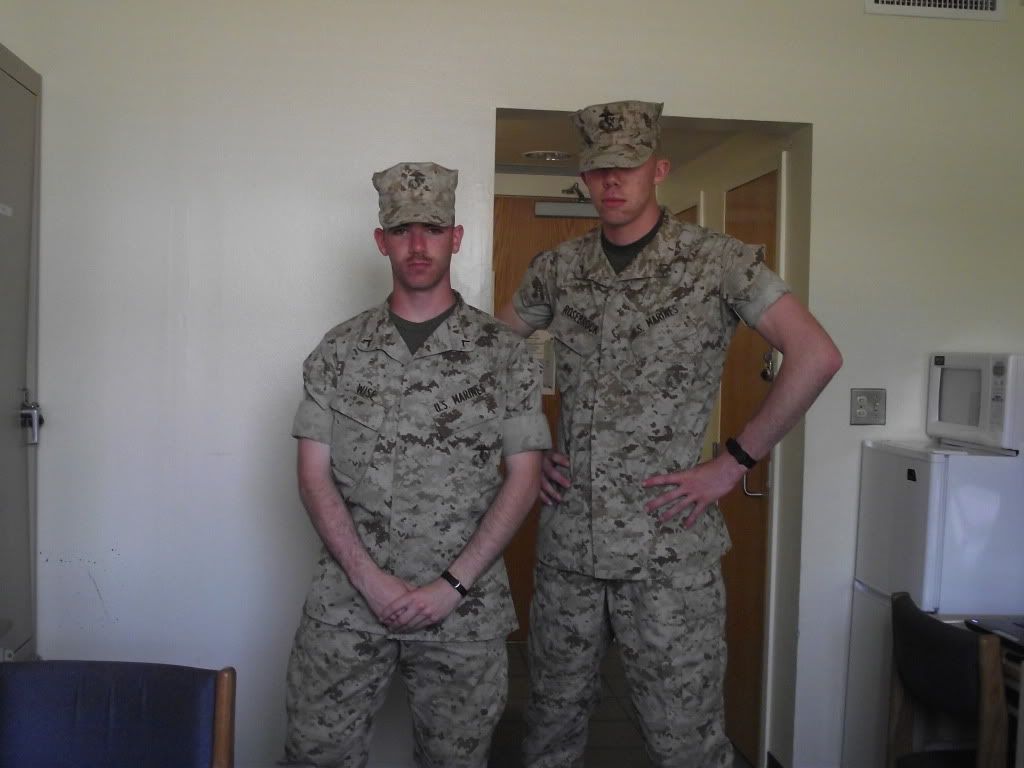 My roommate Wise and Me.